Although the tours are designed for adventure and fun, safety is always the top priority. Where it is needed, protective clothing and equipment is provided. We only use licensed and qualified tour guides, each a specialist in their own field. Our discretion will be used if the conditions of the day are not conducive for the activity planned. Nobody will be forced to do any of the activities and if you would prefer to watch your friends do them, then you are free to do so. As the tours are pre-planned and pre-booked, no refunds will be given if someone chooses not participate.
All our vehicles are in excellent condition and, in the unlikely event that we should break down, there is always a spare vehicle waiting to be used. South Africa has excellent private hospitals and paramedic services. If someone should fall ill or have an accident while we are in the more remote area of the Wild Coast then they will be air lifted if someone the nearest hospital by the private ambulance service that we subscribe to.
All our drivers have traveled South Africa extensively and know the routes well. Crime is a reality in our country, however there are certain crime 'hotspots" which are avoided. Our guides are South African themselves so they understand the local people and will be able to avoid any potential situations from arising.
---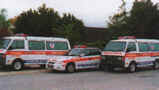 Alderson Private Service
---
24 Hour Emergency Service
Immediate medical Response
ICU Trained staff
ICU Equipped cars, ambulances, planes and helicopter
Emergency land, air and sea rescue
A thorough knowledge of hospitals and specialists in the area
Complete emergency medical advice
Contracted into Medical Aids
Own training centre to cater for basic First Aid to ambulance qualification